Volunteer abroad and assist in projects in Africa owned by the local people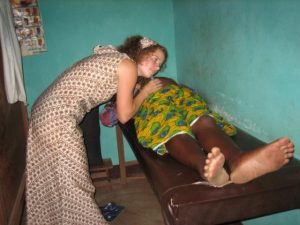 Through Meet Africa you can volunteer abroad at local NGO's and institutions in Ghana, Cameroon or Malawi. We think it is important that initiatives from people and the government from the country itself get acknowledgement and endorsement. They can develop their country in a way that fits them best, to keep their identity and to gain a certain independency. It fits our goal to volunteer abroad within the African system with African colleagues. So you can learn about the African way of working, thinking and acting. And to be in the middle of the African society. For a lot of volunteer jobs a minimum length of stay for 2 or 3 months is compelled, so you have the time to learn about the work processes and your new colleagues. For a few other projects it is also possible to work for a shorter period of time (2-8 weeks). In most cases you work in the morning (from 8am until 1pm), from Monday to Friday. You can find all the possibilities in the projects list.
Why to volunteer abroad in Ghana, Cameroon or Malawi is a good choice
Ghana is known as the most friendly and safe country in Africa. You can move around freely: walking, by bike or with public transport, also being a young woman. And all educated people speak English. In the villages, especially in North Ghana, the traditional culture is very much alive. With the typical architecture of mud huts connected around a courtyard. The traditional healing and religion are broadly practiced and parties and rituals are accompanied by the 'talking drum'.
Cameroon is also a friendly, safe and stable African country. The educated people speak French or English, dependant on the region. The nature in Cameroon is very varied, that's why it is called 'Little Africa'. The people in west and central Cameroon are less poor than in northern Ghana and the living circumstances are less primitive. The advantage of Cameroon is that it is relatively unknown. There are not a lot of volunteers and tourists, so the local people look at you as being very special.
Malawi is a little tropical country aside the beautiful Lake Malawai. Because of the little distances it is never far to reach. Malawi is also a safe country and the people are very hospitable. Educated people speak English, but especially in the north there is a lot of poverty.