Volunteer abroad and stay at a host family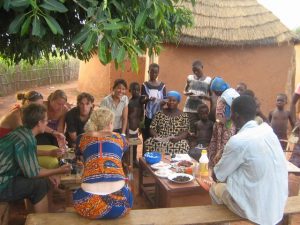 Host families
When you volunteer abroad through 'Meet Africa', you are staying with a host family. This gives you the opportunity to live temporarily with an African family, like a son, daughter, aunt or uncle and to build strong ties. We select host families who enjoy to receive foreign guests, and they will actually consider you as a part of their family. You will stay with a family with a low to average income, as a result of which you will experience how the average family in Africa lives for real. Inside the family you will be invited to help cooking, sweeping, getting water or playing games with the children.
Apart from contacts and friendships, the housing of voluntary workers allows the families an extra income so that, for instance, they are able to send their children to school (see where does the money go?). There are two kinds of families. Depending on the project where you are going to work you can choose or not.
Accommodation with a host family in a traditional village. In this case you will have a lockable hut of your own with a bed. In most of the families there is electricity, but there are also families without it. There is a place for washing an urinating. A public toilet in the village is being used for defecating, you can also use….the bush! It is primitive, however, it is a very special and unique opportunity to live in a family like this.
Accommodation with a host family in or in the neighbourhood of a (small) city. You will have your own lockable room with a bed. The house has electricity and sanitary conveniences (toilet and washroom).
Other options
When you really don't want to live with a host family, there is also a possibility to get a room in a guesthouse (prices variate between €5 to €15 a night). Or, in case of a longer stay, it's possible to rent a room or little house.